"The Top Choice for Construction Financing"

NewRepublicFunding.com
Direct Lender for Commercial and Residential Investment Properties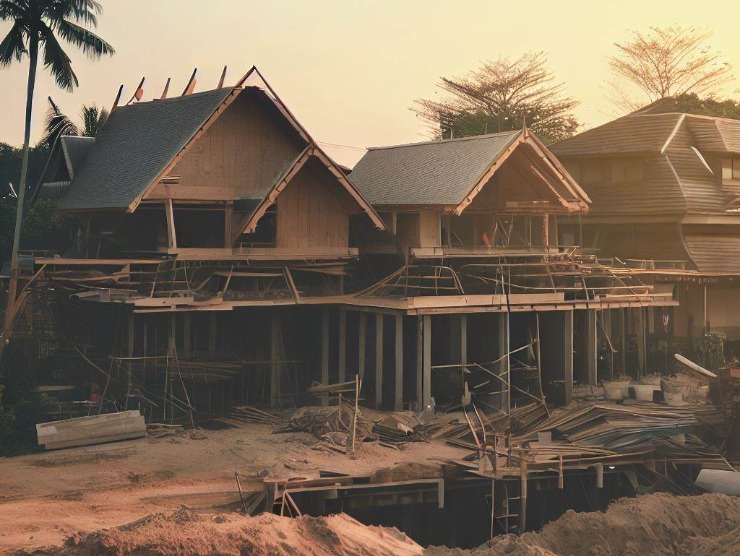 Residential Real Estate Financing Unveiled with NewRepublicFunding.com
Residential Ground-Up Construction Loans:
Experience seamless financing for your investment home construction projects. With our prompt services, expect closings in as little as 10 days, complemented by an accommodating loan-to-cost offering of up to 80%, and up to 70% of the after-constructed value.

Residential Bridge Loans:Capitalize on prime opportunities with our flexible Residential Bridge Loans. Designed for deals requiring rapid closings, we ensure you won't let a golden opportunity slip through your fingers. Get funded in as little as 3 days for loan requests ranging from $100K to $3.0M, up to 70% Loan to Value.
DSCR Loans:Investors seeking permanent, long-term debt will find our DSCR Loan an excellent choice. No personal income documentation is required; we even finance vacant properties listed for rent! Experience swift closings in as little as 14 days.
From light cosmetic rehab to repairing fire damage or adding an ADU, our Fix and Flip or Rent Loans are versatile. Transform your investment property with our efficient funding, closing in 10 days or less.
Whether you're acquiring two or a hundred investment properties, our Portfolio Loan offers significant interest and closing cost savings. Streamline your property portfolio growth with closings in as little as 21 days.

Facilitate your condo conversion projects with our quick and easy funding. Our Condo Conversion Loan ensures a smooth financing process, enabling you to close in as little as 14 days.

Subdivision Development Loans:
We specialize in Subdivision Loans, offering generous loan-to-cost guidelines and a rapid closing timeframe of 21 days or less. Partner with NewRepublicFunding.com to get your development project off the ground swiftly.

Planned Unit Development Loans:
Our Planned Unit Development Loan presents an ideal solution for developers of condos and townhomes. You can efficiently serve the affordable housing market with a loan-to-cost ratio of up to 80% and a brisk closing process of 21 days or less.
At NewRepublicFunding.com, we're committed to providing a comprehensive suite of residential real estate financing options tailored to your specific needs. Discover our diverse loan programs today!



Commercial:



Unleash the Power of Commercial Real Estate Financing with NewRepublicFunding.com!

Multi-Family Ground-Up Construction Loans:

Embarking on a multi-family project? Our Ground-Up Construction Loans cater to 5+ units with innovative, flexible terms for speedy closings.
Multi-Family Bridge Loans:
Need to revamp a vacant building or make significant improvements? Our Bridge Loan program offers swift closings with light documentation in 21 days or less.

Asset-Based Commercial Loan:
Gain quick access to capital ranging from $3,000,000 to $75,000,000, with no FICO Score or Personal Income documentation required. Warehouses, Retail, Multi-Family, and Office spaces - all can be financed up to 65% Loan to Value.

CMBS / PERM Debt:
Whether you require an Agency, HUD, or CMBS loan, we can assist your project with competitive, flexible terms.
ALT-A Small Balance Commercial:
From 100K to 2.0 Mil, NewRepublicFunding.com can accommodate office buildings, restaurants, warehouses, RV parks, retail, and multi-family properties with excellent ALT-A terms. 80% Purchase / 75% Refi.
Commercial Bridge Loans:
Need quick funding? Our Commercial Bridge Loans range from $1.0M to $10M for Warehouses, Light Industrial, Office, and Retail. Close within 21 days, with 65% Loan to Cost up to 65% of the After Completed Value. Terms range from 12 to 24 months.
Commercial Construction Loans:
Planning a major construction project? We provide loans up to 70% Loan to Cost and up to 65% of the after-constructed value with terms of up to 5 years. Sums range from $10M to $35M. Warehouse, Hospitality, Multi-family, and Light Industrial properties are acceptable collateral types.
Hospitality Asset Loans:
For Bridge to Flagged / CAPEX Improvement Deals and Flagged Ground Up Construction Loans, our Hospitality Asset Loan Program offers up to 70% loan to cost and up to 65% of the after-repair value. Loan amounts range from $5M to $35M.
At NewRepublicFunding.com, we confidently help you navigate the commercial real estate financing landscape.
Explore our versatile loan programs today!

Our Value:
Private Money With a Personal Touch.
Low Overhead Equals Lower Rates and Costs.
Direct Lender, No Broker Fees.
(Broker Submissions are Allowed)
More Details on Broker Page...
Experienced Team Members, Actively Engaged, Responsive and Transparent.
Easy Submission Process + Quick Closings.
Private Money, Alt-A, and Commercial Conventional Financing Options.
Our Mission:
Our Mission is to provide client-centered capital solutions for small, Mid Market, and Large Commercial, Industrial, and Residential Projects.
Our Vision:
We provide access to construction and investment capital.
You develop your projects.
Together we build a more inclusive diverse economy.
Lets Talk!
We're here to help